United front in NHS cuts battle
Reporter: Beatriz Ayala
Date published: 07 September 2011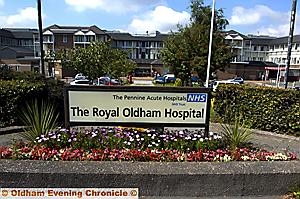 NOT looking healthy: NHS staff cuts could be felt at local level
OLDHAM'S doctors, unions and MPs are taking a stand against proposed NHS cuts as parliament debates a crucial health bill.

The Oldham Trades Union Council and Oldham Constituency Labour Parties have come together to organise a specially-convened meeting on Friday against what they say are the Coalition Government cuts to the NHS and legislative changes being considered by parliament.

And Oldham GP Dr Katie Pieroni has demanded the Government scrap its health proposals amid fears it will destabilise the NHS.

There has been mounting opposition to the Government's Health Bill, an overhaul of the NHS in England, which is being discussed in Parliament today and tomorrow.

Meeting organisers claim that from announced changes, the public can expect to see:

::£80million cut from the budget over three years.

::A third of operations not approved.

::Waiting times doubled and many operations cancelled.

::Local NHS staff reduced by a 1,000.

::Less preventative care.

::Reduced hours for emergency care.

::No new buildings.

::More privatisation, ultimately costing us all more in tax.

::Control of health services moved from local arrangement to Greater Manchester as a whole.

MPs Michael Meacher (Oldham West and Royton) and Debbie Abrahams (Oldham East and Saddleworth) will be speaking at the event, as will trade unionists Liz McInnes (Unite branch secretary) and Karen Reissmann (Unison National Executive Committee).

Mrs Abrahams said while no-one was denying that NHS reform was needed, she branded the £3bn reorganisation as "wasteful" and said it had "no mandate from the electorate."

She added: "The scale and pace of the introduction of so-called efficiency savings are affecting the timely access to treatment and care for some of my constituents.

"We have seen waiting times increase across the country as a result of this.

"I'm proud of what Labour did to improve NHS waiting times and now I see the guarantees we put in place disappearing."

Mrs Abrahams said the changes were only the tip of the iceberg and if the bill was passed as it stands, things would get even worse.

The legislation currently being brought in by the Government is opposed by the British Medical Association (BMA), Unison, Royal College of Nursing (RCN), Unite and the Chartered Society of Physiotherapists.

Critics include Christina McAnea, head of health at Unison, who said the bill in its current form would lead to the end of the NHS.

But Health Secretary Andrew Lansley said: "Claims that we aim to privatise the NHS amount to nothing more than ludicrous scaremongering.

"The reality is that we're giving more power and choice to patients over how they get treated, keeping waiting times low and cutting bureaucracy so more cash gets to the front line."

The public meeting will be held at the Royton Suite in the Queen Elizabeth Hall on Friday at 7.30pm. The audience will be asked to actively lobby against the legislation.