Allotment vandals go on wrecking spree
Date published: 06 April 2012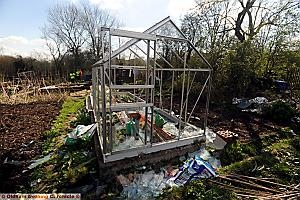 A brand new greenhouse smashed by vandals.
DEVASTATED gardeners have been left counting the cost after heartless vandals caused thousands of pounds worth of damage to their allotments.

Smashed greenhouses, toppled sheds, burned crops and stolen tools is just some of the extreme vandalism which took place at Snipe Clough in Hathershaw.

A relaxing haunt for green-fingered folk was turned into a "warzone" — according to allotment society secretary Abdul Ghafoor.

The retired publican, whose plot was among the most severely damaged, said: "I am absolutely gutted. I feel like crying. The amount of time and effort put into this allotment is huge and these vandals come along and cause this devastation.

"This does not look like a one-man job, as it would take a huge amount of strength to push over a shed."

Half of the allotments, on Honeywell Lane, have fallen victim, with the owners picking up the pieces yesterday afternoon.

Police said the incident happened between 3pm on Wednesday afternoon to 9am yesterday.

The incident follows an arson attack on 10 allotment sheds in Stott Lane, Failsworth, on Wednesday, March 28.

Anyone with information should call the Oldham West Neighbourhood Policing Team on 101, or Crimestoppers, anonymously, on 0800-555 111.
Read a full version of this story in our printed and eChron editions.