£2m deal to patch potholes
Date published: 16 November 2012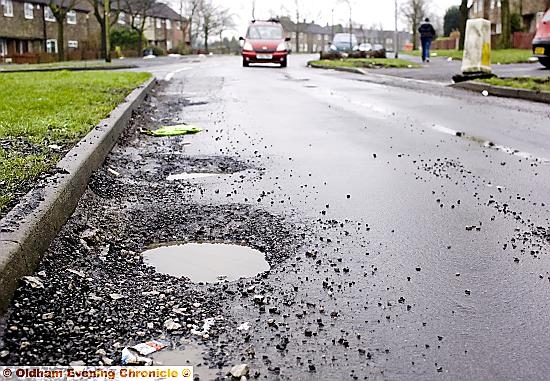 Potholes awaiting repair litter Oldham's roads.
A HIGH-TECH machine will quickly repair Oldham's potholes in a £2million drive to fix the borough's blighted roads, say council chiefs.

The high-powered equipment is designed to be more efficient and effective at patching roads by forcing the material into the pothole under high pressure.

It's claimed the new approach is cheaper than traditional methods and reduces disruption to traffic, while enabling teams to undertake more repair work on each job providing a "right first-time fix".

Oldham Council says the "Velocity" pothole patching equipment is part of a revolutionary new scheme to treat and protect roads across Oldham with an extra £2million committed over the next two years to deliver the project.

Before March, 2013, £500,000 will be spent with the rest committed for 2013/14 — though work will still need to be prioritised.

Councillor Dave Hibbert, Oldham Council's Cabinet member for planning, housing and transport, said: "Some of our roads are already in need of extensive repair and others will become badly affected if we don't act to stabilise, reinforce and re-seal them now.

"During the past three years, England has experienced a series of harsh winters. Oldham's location, high on the Pennine plateau, means our roads are more susceptible to cold weather damage than other boroughs.

"We have 817km (507 miles) of road to monitor — a huge task. Two-thirds of our borough is rural too, this creates extra challenges compared with more urban authorities. We have a fantastic team of specially-trained, dedicated staff working on this. We're leading the way with innovative new equipment which makes the works quicker, stronger and less disruptive to traffic."

Report potholes on 0161-770 4325 or at www.Oldham.gov.uk.
for a full version of this story buy the Chronicle or read the eChron and iChron digital versions.