Micro wave of investment...
Date published: 09 September 2013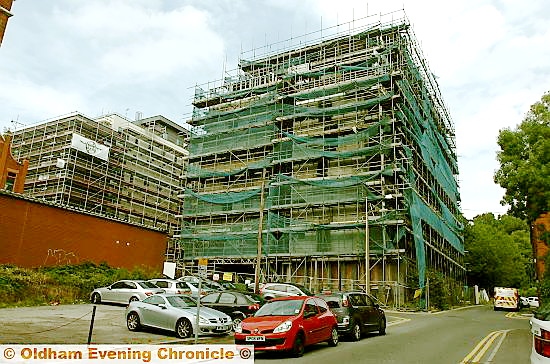 UNFINISHED . . . the flats today
A DEVELOPMENT of 160 "micro-apartments" — some as small as 18 square metres — could be created in Oldham town centre

Cardinal Court's self-contained apartments have a small bathroom and an open-plan kitchen and living area and are intended for long-term rental or short-term letting. Each apartment lives up to its "micro" name, with between 18 and 27 square metres of space.

Agent Nicol Thomas says the development is part of the 'tiny house' movement catching on worldwide.

Some of the apartments - with folding beds and tables to maximise space - will have an additional room with a balcony.

A planning application for the conversion of an unfinished, eight-storey building in Cardinal Street has been submitted to Oldham Council for consieration on September 25.

Also in the plans - put forward by Ken Chan of Manchester Bright Investments - are designs for bar, gym and laundry facilities. The building will also have a reception, ensuring access is limited to residents and guests.

Plans for 48 apartments on the site were originally approved in 2006, but work stopped when Oldham developer Hillstone, went into administration in June 2008. The property has since stood unfinished.