My heartache over lost Lee
Reporter: Gillian Potts
Date published: 15 January 2014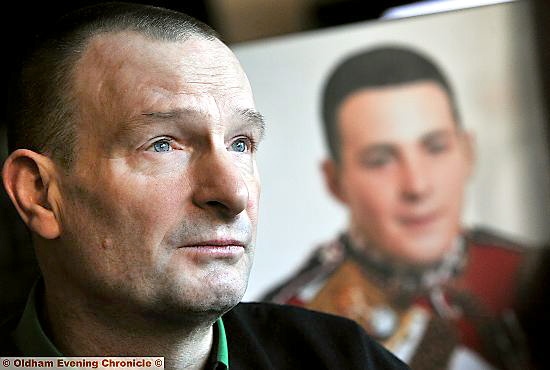 Photo: Darren Robinson
LEARNING to cope . . . Phil McClure: 'I sat just feet away from the killers at the Old Bailey, it was too much to bear'
THE grieving father of murdered soldier Lee Rigby has broken his silence exclusively to the Chronicle.

Phil McClure, from Bardsley, spoke out for the first time after throwing his weight behind a charity event in memory of the 25-year-old fusilier, who was brutally killed near the Royal Artillery Barracks in Woolwich last year.

Since the tragedy, Phil (53) has insisted on grieving in private — until now - for the son he regained only a decade ago after estrangement following the break up of his marriage.

Phil was "besieged" by national newspapers who staked out his home and sent him dozens of letters to persuade him to talk.

Phil learned of his son's murder when he returned home from a shift as a lorry driver in the early hours of May 23. Michael Adebolajo and Michael Adebowale had driven a car at his son then hacked at him with a cleaver and knives.

"I'd just got in from work at 5am when my wife told me what had happened. He was my only child. My heart was broken. We were estranged because of a messy divorce but he came back into my life when he was about 13 or 14 and we were close.

"Lee was a big Manchester United fan and back then I used to drive United fans to away games so he used to come with me. He wanted to get up to the stuff the older fans did, like all lads, but he was too young.

"They were good days, we had a lot of fun. We quite often went to the pub when he was up here, we were good friends. It's hard to think we can't do that any more.

"I was proud when he joined the Army. It was what he'd always wanted to do.

"The one good thing I have to hold on to in all of this is my grandson Jack. I speak to Lee's wife, Rebecca, and I see Jack whenever I can. He's the future now.

"I have my good days and bad days but I'm still very angry. They say time is a great healer but I'm not sure it's going to be for me.

"I go to Lee's grave every week to just sit and spend some time alone with him. It just feels right."

Phil shuttled back and forth from London during the trial of Lee's killers, who were found guilty of murder in December and will be sentenced later this month.

"I was there for the start but I couldn't sit through it all — it's been horrendous," said the softly-spoken, intensely private father, who bears all the scars of losing a child, and losing him in such a public, horrific way.

"I was sat just feet away from Lee's killers Michael Adebolajo and Michael Adebowale at the Old Bailey. It was too much to bear."


Phil, known as "Geordie", has joined friends at Whittles, the concert venue in King Street, Oldham to organise a memorial fundraiser in aid of Help for Heroes at the pub on February 2 (3pm).
Phil is determined the fund-raiser will be a celebration of Lee's life: "It's a time to remember and for people to come along and pay their respects in a way they've not been able to," said Phil.

"We're raising money for a great cause and hopefully some of Lee's Army pals will be able to make it.

"I asked Lee's wife Rebecca to come along with their son Jack, but we'll have to see if that's possible."

As well as live music there will be raffles, auctions and other atractions.

Visit www.whittles-oldham.com for event information.