Taxi driver knife terror
Reporter: Robbie Gill
Date published: 07 February 2014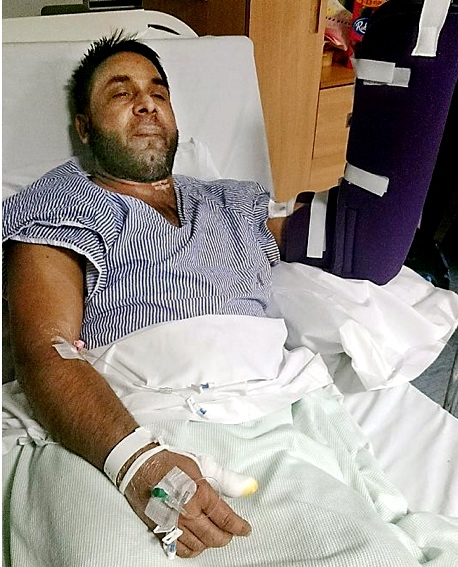 ATTACKED . . . injured driver Ashiq Pervaz lies in his hospital bed
A POLICE probe is underway after a terrified cabbie was subjected to a violent attack - one of three incidents since December.

Racist motives have not been ruled out and police believe the crimes could be linked.

The latest drama unfolded in the early hours of Wednesday. Ashiq Pervaz (36), from Oldham's Shaw Road-based Premier Cars, drove to Dunkerley Street for a fare.

The thugs, who asked to be taken to Sholver, launched a vicious knife attack on the driver as the cab arrived at Sholver's Pearly Bank, before running off with cash and a phone. Mr Pervaz suffered neck and hand wounds.

Both attackers are described as white, in their early 20s. One is of medium build and height, has light-coloured hair and wore dark clothes. The other wore a black jacket. Both had local accents.

Police Inspector James Troisi said: "We have two separate kinds of attacks — anti-social behaviour and these more serious attacks. This incident is adding to the anxiety of drivers but we are working hard to solve this. Officers are linking-up with drivers and we are implementing more visible policing."

A first Sholver attack took place in the early hours of New Year's Day, when four men in their 20s were taken there from Ripponden Road by another cab firm. When they arrived, one put a large knife to the 45-year-old driver's throat before they stole cash and left the driver with cut hands.

A second Premier Cars taxi was attacked before Christmas when three yobs stoned a car after refusing to pay a £2 fare.

Premier Cars manager Tanveer Hussain said: "The news about Ashiq is very shocking.

"We are starting to get very concerned and have to make sure we take all customers' details and their location to protect ourselves."

Five cabbies from the firm protested before Christmas in support of their colleague who suffered blurred vision from the stone attack.