Operation Hope for smiling Charlotte
Date published: 16 February 2015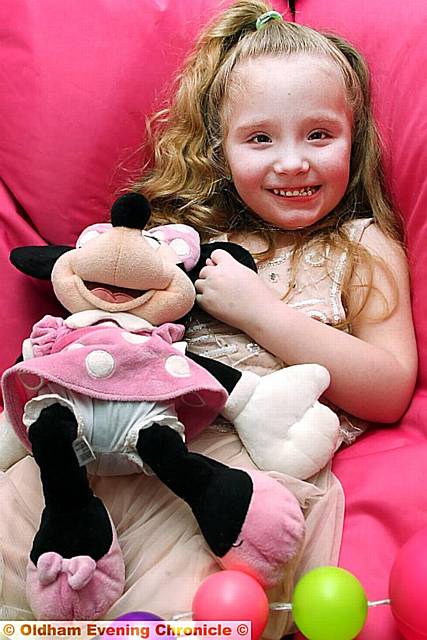 Photo: Paul Sterritt
LITTLE smiler: Charlotte Roberts.
CHEEKY Charlotte Roberts wants to be able to walk, dance and have fun with her friends at school — just like any other little girl.

But the smiling six-year-old's dreams are frustratingly out of reach. Charlotte, from Chadderton, suffers from spastic quadriplegia cerebral palsy, which means she can't walk or even sit unaided.

Now her loving family has vowed to help the little fighter's dreams to come true, by raising £80,000 to pay for private operations and treatments in America.

Proud mum Lianne Ball said: "Charlotte has so much determination. Despite all the problems she has faced, she always has a beautiful smile on her face. She tries so hard to achieve more — really pushing herself. She just wants to be independent and join in with what the other children are doing.

"It is upsetting sometimes to see her so frustrated with herself, sitting in awe of her friends. We are determined to do whatever we can to help her in that fight."

The family is hoping to raise as much as possible to pay for treatment at the St Louis Children's Hospital, since the procedures are currently not available to Charlotte in the UK.

As well as surgery, Charlotte will need physiotherapy, a specialist walking frame and other equipment to continue her progress at home.

Mum-of-four Lianne said: "The operations are her best chance of being able to walk.

Charlotte, a pupil at Kingfisher Community Special School, was born nine weeks premature and was left with irreparable brain damage after developing an infection in the womb.

The youngster, who also has epilepsy, a severe vision impairment and a shunt in her brain to prevent a build up of pressure and fluid, spent almost all the first two years of her life in hospital, battling every day.

Her mum said: "She's such an inspiration to everyone she meets and is always living life to the full.

Donate at www.gofundme.com/Charlottes-fund.