Oldham in top 10 for asylum seekers
Reporter: Iram Ramzan
Date published: 21 January 2016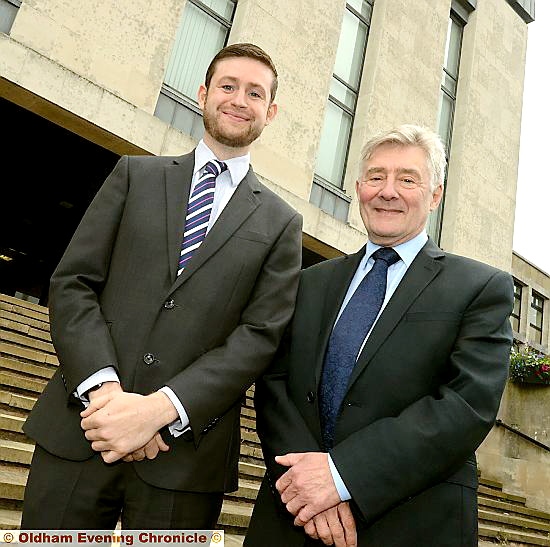 Interim Mayor of Greater Manchester Tony Lloyd (right) with Oldham West and Royton MP Jim McMahon
OLDHAM is one of the 10 local authorities nationwide with the highest concentration of asylum seekers

Home Office immigration statistics show the town was 10th on the list, with one in every 360 residents an asylum seeker.

Middlesborough has the UK's highest proportion, with one in every 173 residents an asylum seeker.

Nearby Rochdale is higher up the top 10 than Oldham, with one in 217.

Both Oldham West and Royton MP Jim McMahon and Greater Manchester's interim mayor Tony Lloyd have previously criticised the Government for the number of asylum seekers being housed in the north.

Mr McMahon said in September: "My town has a long, proud history of helping those seeking a safe refuge. But we should ensure placements are done equitably. Our current system isn't working. Little or no regard is given to the impact on vital local services or the neighbourhood."

Last August, when interim Mayor Tony Lloyd asked the Government to look at its placement systems, thee were 5,143 asylum seekers in Greater Manchester in the first quarter of 2015 — six times more than in the whole of London.

Mr Lloyd hit out at the Government's "spectacular inability" to manage dispersal across the country.

Mr Lloyd said: "The need to give asylum is well established but what is unfair is the incompetence of central government in the way it has placed asylum seekers in this country so that some areas are receiving significant numbers. Those numbers put pressure on local schools and health resources.