The case of the missing mail... boxes
Reporter: Ken Bennett
Date published: 04 February 2016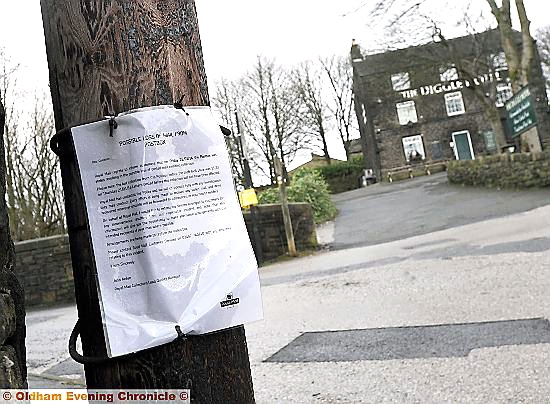 THEFT . . . a post box was stolen from a telegraph pole outside the Diggle Hotel
Oldham have been hit by a spate of post box thefts and stolen mail.

Thieves snatched three post boxes in Saddleworth and two in Mossley - while one in Shaw that campaigners had fought to protect had to be removed after someone tried to steal it.

Residents have been warned to be extra vigilant after thieves struck on what appears to be a nationwide crime spree.

After a box on a post opposite the Diggle Hotel was stolen, Saddleworth parish councillor Lesley Brown said: "It's sad to see more of our national heritage disappearing."

A box on the front wall of Robert Scott's Mill at Manchester Road, Greenfield, was ripped open and post taken before mail workers extracted the box to leave a hole in the wall.

At Bleak Hey Nook, Delph, the entire box vanished but has since been replaced. Local sub-postmaster Suhki Singh said: "People living in the area were upset. It really is a shame."

In Shaw, campaigners were left fearing a missing mailbox on Milnrow Road had been purposely removed. It has since been confirmed it will be replaced following an attempted theft.

Shaw Lib-Dem councillor Howard Sykes said: "This is the closest mailbox for a considerable distance in the locality. Hopefully, Royal Mail will replace the post box as soon as possible."

A Royal Mail spokesman said: "We fully intend to reinstate the box and we are investigating a more suitable location close to the existing site."

Speaking about the other thefts, she added: "We will be replacing them as soon as possible. If customers are concerned about any mail they have posted, they should contact Royal Mail customer services on 03457-740 740.

"Royal Mail has 115,000 post boxes around the country; thankfully thefts are relatively rare."

The Diggle box will not be replaced in its original position, but talks between Royal Mail and Saddleworth Parish Council are taking place to find an alternative site.

More than 100 traditional red post boxes are stolen every year, particularly in villages and rural areas.