Oldham and Manchester's bid to reduce homelessness
Date published: 16 February 2018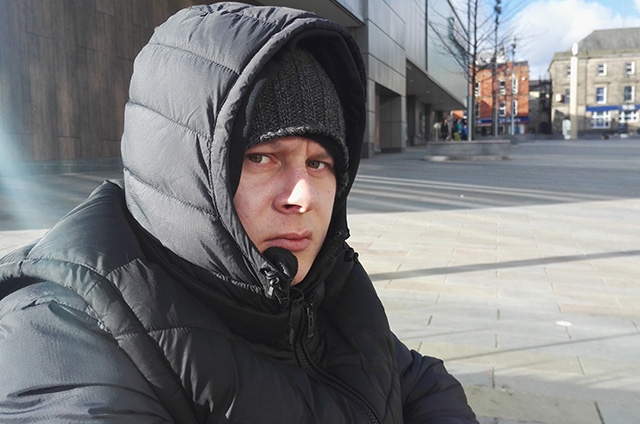 Matthew, a rough sleeper, regularly sits outside the new cinema complex in central Oldham
Scroll down for Video
While Greater Manchester Mayor Andy Burnham has proudly revealed his new grass-roots plan to tackle rough sleeping in the city, the homelessness issue does continue in Oldham.
However, Oldham Housing Investment Partnership has also vowed to help Greater Manchester Housing Providers end rough sleeping and reduce homelessness over the next five years.
First Choice Homes Oldham is developing plans to help deliver six pledges with other Oldham-based housing associations, Oldham Council, the NHS, and local organisations and charities in Oldham and Greater Manchester.
Customer First Director with First Choice Homes Oldham, Dave Smith, said: "There are many complex causes behind homelessness.
"It can be challenging to help people in real need change their lives and provide them with sustainable and affordable homes. Homelessness is a growing problem in Oldham and across the country.
"We have seen a significant increase in the number of homeless people coming to our Housing Advice Service since 2015, so we all must do more to help.
"We are determined to put the right resources, services and people in place together with organisations in Oldham and across Greater Manchester to ensure they can get a home.
"New legislation, The Homelessness Reduction Act, will come into force in April and will revise existing legal duties as well as adding new ones. This is a real opportunity to also help those who are not receiving support under the current system."
Manchester Mayor Burnham is clearly determined to make his grass roots plan become a success.
It involves Greater Manchester becoming the first city region in the UK to bring together the public, private, faith and community sectors to come behind a single, unified plan to tackle rough sleeping.
The radical plan, to end rough sleeping by 2020 and set out a 10-year vision to tackle all forms of homelessness, has been developed by the Greater Manchester Homelessness Network.
It features a partnership of charities, businesses, local authorities, the public sector, people with experience of homelessness, the faith sector and other Greater Manchester organisations.
In another UK first, a new business network has also been launched, to give the private sector an enhanced role to develop solutions to rough sleeping.
Mr Burnham said: "We can all see that the problem of rough sleeping is getting worse – but here in Greater Manchester our response to this is getting much better.
"One of my key campaign pledges was to end rough sleeping in Greater Manchester by 2020, and there has been real progress over the past nine months.
"We've secured millions of pounds of investment to help people living on the streets to get a roof over their head; all sectors in Greater Manchester are working together more closely than ever before; and we've seen a new approach to emergency support in freezing weather which has seen 1,000 extra beds made available this winter.
"But we have so much more to do, which makes this plan so important. This is a real problem, and it's a growing one. But it's a problem we can solve together if we're ambitious, driven and innovative."
The Chronicle hit the streets, and found Stuart, who is quite a familiar homeless man in and around Oldham town centre.
He regularly sits outside the Spindles shopping centre, and surrounding high street stores.
Originally from Tameside, he now regularly sleeps rough in a tent amid some trees by the Metrolink line near Failsworth.
He has been homeless since last September.
Stuart said: "I split up from my partner and after that I became homeless.
"It's not good. I'm on my fourth tent now. The other three were either burned or vandalised."
Matthew was born in Poland, but came over to live in Hathershaw a few years ago.
Unemployment was the major reason he became homeless four months ago, and since that time he has been staying in tents, old houses, while occasionally he does secure a bed for the night at friends' houses.
"I lost my job, my house, everything," he said.
"Everybody seems to promise me everything, but nothing happens."
Watch our video, when Chronicle journalist Simon Smedley spoke to homeless Oldham man Matthew on a blustery day outside the new Odeon cinema complex.
Chronicle journalist Simon Smedley spoke to homeless Oldham man Matthew on a blustery day outside the new Odeon cinema complex.