New book chronicles Oldham speedway star's Spanish Civil War battles
Date published: 25 July 2022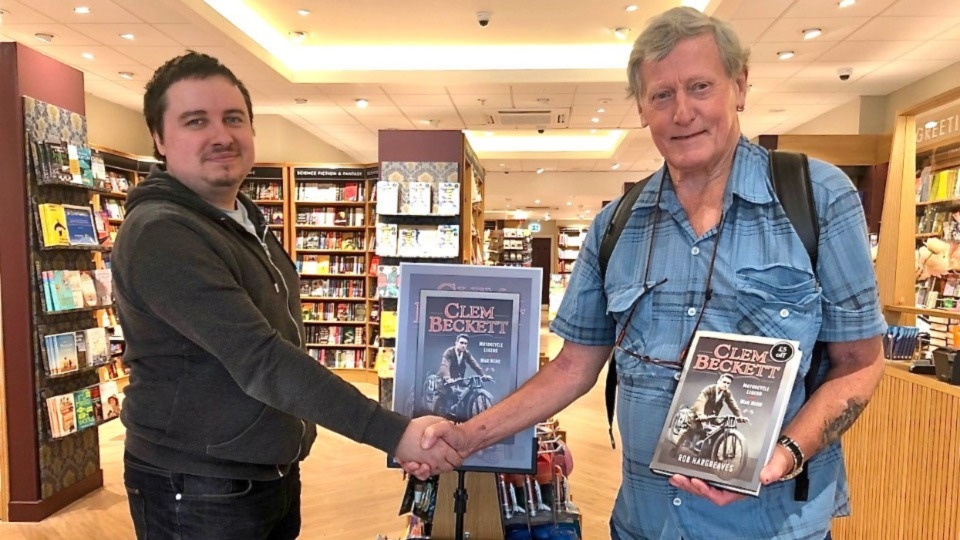 Author Rob Hargreaves (in blue shirt) is pictured at the book-signing with Oldham Waterstones manager Ryan Creely
A new book has been published about a daredevil Oldham motorcycle speedway star who later became a volunteer fighter with the International Brigade in the Spanish Civil War.
The book, entitled 'Clem Beckett, Motorcycle Legend and War Hero', has been written by author Rob Hargreaves, a retired Greater Manchester journalist, who visited the Waterstones bookshop in Oldham to sign copies.
Mr Hargreaves and Graham Briggs, an Oldham supporter of the International Brigade Memorial Trust, met Waterstones branch manager Ryan Creely and other staff during the signing.
Covering sport, social, political and war history, the book describes Clem Beckett's upbringing in Saddleworth and Oldham, and his rise to stardom in dirt track racing.
Speedway became a hugely-popular spectator sport in the 1920s and '30s with men and women riders competing at venues such as Audenshaw, Belle Vue and White City in Manchester.
But there were tensions too between riders from humble backgrounds seeking fairness against wealthy 'gentlemen-amateurs' and profit-seeking commercial operators trying to exploit speedway riders.
Sport, money, sponsorship, safety and individual competitors' rights were big issues – perhaps like football today.
Clem Beckett's childhood was spent in the hamlet of Top o'th' Meadows near Waterhead in Saddleworth and later at Roundthorn and Glodwick in Oldham.
He had a mix of town and country experiences, and a thirst for thrills and adventure.
He fell in love with motorcycles as a teenager and later developed links with Stalybridge Motor Club, the Auto-Cycle Union and various speedway venues.
In his early working life in Oldham and then as a rising speedway star, Clem Beckett campaigned for better conditions and had a strong sense of justice.
Later, he became a volunteer fighter for Spanish democracy against fascism in the civil war of 1936-38. He ultimately paid with his life.
Mr Hargreaves said: "I am very encouraged by the interest in Oldham about Clem Beckett and the other men who joined the International Brigade.
"Clem Beckett travelled the world before dying heroically, fighting for democracy and against fascism, in the Spanish Civil War.
"Clem was born a Yorkshireman in Saddleworth but was an Oldhamer through-and-through.
"As I discovered in my research, lots of folk in the town can tell stories about Clem that have been handed-down to them and there's no doubt that Clem Beckett was admired - even loved - by his fans."
Ten men from Oldham and Saddleworth joined the International Brigade, of whom six paid with their lives.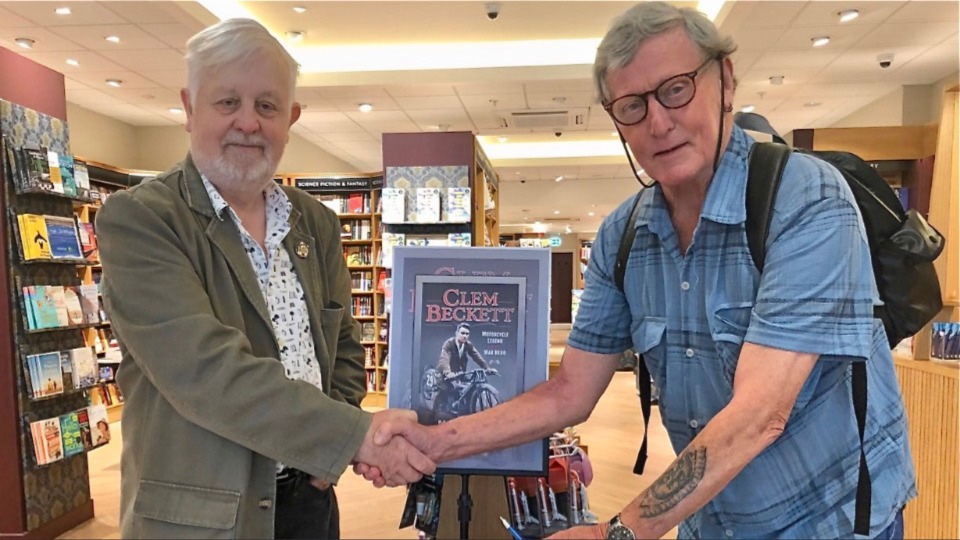 In the past, their stories have been touched-upon briefly in the local media and also with a small International Brigade touring exhibition at Oldham Library a few years ago.
Oldham Parish Church has a memorial plaque to the men.
However, the new book will hopefully boost awareness of Clem Beckett and the other local volunteers.
A number of talks by Mr Hargreaves about Oldham and Saddleworth's links to the Spanish Civil War are also being planned later this year.
He will be giving an illustrated talk, called Clem Beckett, Oldham and the Spanish Civil War, at Oldham Library's performance space on Tuesday, September 27, as part of the town's history festival.
He is also working with Saddleworth Historical Society on a project.
Mr Briggs, from Oldham, is a supporter of the International Brigade Memorial Trust and a member of the North-West International Brigade Memorial Group, which supports the trust's work in this region.
He is also involved with organising the September talk at Oldham Library and other local events.
The International Brigade Memorial Trust is a national charity with local supporters' groups which looks after memorials to volunteers from across the UK and Ireland who during the Spanish Civil War.
This includes memorials at Droylsden Library in Tameside, Oldham Parish Church, Manchester Central Library and other sites across Greater Manchester.
Volunteer soldiers from across the world joined the International Brigade.
They fought in support of the democratically-elected Spanish government against the coup by General Franco, who was supported by Nazi Germany and Mussolini's Italy.
Other International Brigade supporters volunteered as nurses, vehicle mechanics and in other roles in Britain and elsewhere to support the Spanish democratic cause.
The memorial trust also raises awareness of the Spanish Civil War, which is often seen as the 'first battle' of the Second World War.
The trust also campaigns to have the Spanish Civil War included in the UK school curriculum.
Mr Hargreaves' new book about Clem Beckett is published by Pen & Sword.
It is available in bookshops and online.
---
Do you have a story for us? Want to tell us about something going on in and around Oldham? Let us know by emailing news@oldham-chronicle.co.uk , calling our Oldham-based newsroom on 0161 633 2121 , tweeting us @oldhamchronicle or messaging us through our Facebook page. All contact will be treated in confidence.