Double delight for Isaan Gym
Date published: 16 April 2018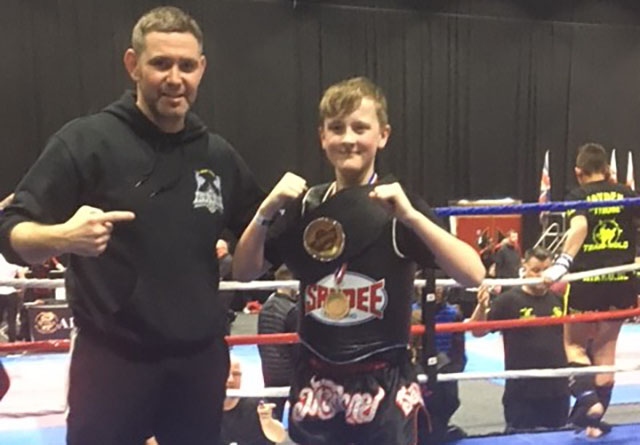 Isaan Gym head coach Stephen Donnelly with Luke Mattinson
Two boxers from the Oldham-based Isaan Gym junior team returned from the Barnsley Metrodome with that champion feeling.
In total, Isaan Gym head coach Stephen Donnelly took five fighters to the prestigious Yokkoa Open tournament, which is widely regarded as one of the toughest junior competitions in Europe.
Eleven-year-old Tommy Lowe, from Greenacres, turned in some masterful performances on his way to glory.
He fought three times in one day, eventually winning the 33kg category final to be crowned Yokkoa champion.

Luke Mattinson, from Moorside, fought a very tough Dutch fighter in the final to win his 46kg category.
He was crowned K1 Yokkoa champion.
Head coach Donnelly said: "I'm very proud of both boxers as they both fought in very tough categories."