Teacher Candise is celebrating £3,000 holiday win
Date published: 22 January 2019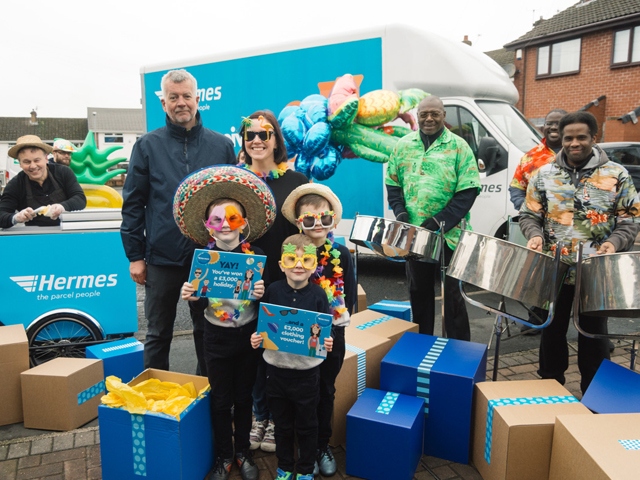 The winners of the top prize celebrate
A cold and quiet cul-de-sac in Oldham was transformed into a tropical paradise to celebrate the grand winner of a national competition.
A bleak January morning was replaced by a carnival atmosphere in Connington Close, as a steel band and an ice cream cart accompanied a local courier as he delivered a £5,000 prize to resident Candise Moore and her family.
The shocked mum-of-three, who was picked at random ahead of 30,000 other entrants, was congratulated by courier Tom.
The were joined by staff from parcel company Hermes, who ran the competition, along with some lifelike inflatable flamingos.
Candise, a teacher, was presented with a £2,000 clothes voucher and a £3,000 holiday voucher, which will enable her young family to travel on a plane together for the very first time.
Candise said she saw the competition on Facebook.
"We entered a few giveaways over Christmas but didn't think we'd win," she said.
"We've never been out of the UK as a family on holiday, so we're really excited to go on an aeroplane together.
"The boys had been saving in a money jar to go abroad – they want to go to Croatia, Spain or Greece, somewhere warm and sunny.
"I didn't tell the boys what the prize was – I actually said it might be socks – so they were thrilled, and it was amazing to see their reactions."
A neighbour, who came out of their house to watch the presentation, added: "It couldn't have happened to a nicer family."