Seeking memories of Dr Edwards and Mr Steptoe
Date published: 19 April 2018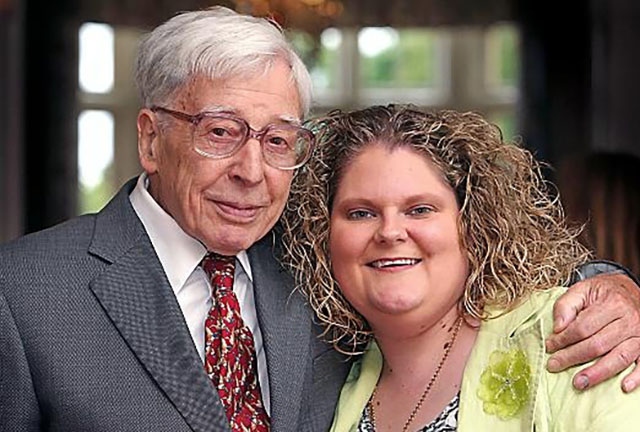 Louise Brown with 'grandfather' Professor Sir Robert Edwards pictured in 2013
Editor,
From 1969 until 1978 an as yet unknown scientist and gynaecologist laboured long and hard in Oldham to bring about a 'medical miracle' that continues to help millions of women and men even today.
These were Dr Robert Edwards, from the Physiological Laboratory Cambridge, and Mr Patrick Steptoe, who worked for Oldham General Hospital and who may well have delivered many of the children or grandchildren of current readers.
Their achievement was, for the time, astounding.
They managed to fertilise an ovum in a petri dish, outside the human body, transfer it to the mother, and watched in awe as the embryo grew to term.
This finally resulted in the birth of one of the most famous babies ever born, Louise Brown, on July 25, 1978, to be followed by a second baby, Alastair Montgomery, early in 1979.
After this point, from humble beginnings in Oldham, 'test tube babies' became commonplace and what has become known as in vitro fertilisation (ivf) is routinely offered to millions of people suffering from infertility around the world.
It is estimated that around six million babies have been born since this time, and numbers continue to rise.
As the 40th anniversary of Louise's birth approaches, it is worth remembering that Steptoe and Edwards's work in Oldham caught the attention of the world's press, but the Chronicle also played a leading role in the reporting.
Four of its journalists – Mike Attenborough, Peter O'Reilly, Sue Pape and Janice Barker – even received the award of Provincial Journalist of the Year in 1979.
In anticipation of the celebrations that will undoubtedly unfold as Louise reaches her milestone birthday, we should not forget all the women (and their husbands) who served as clinical subjects during the decade that Edwards and Steptoe were doing their experimental work in order to perfect ivf.
Many of them were local, and some were from the north west of England.
Owing to the recent free publication of their anonymised medical records, we know that a total of at least 282 women contributed to the Oldham programme, and they underwent 495 cycles of failed treatment before complete success was finally achieved just twice.
All played a major role in this chapter of medical history, helping Steptoe and Edwards with research in reproduction and genetics that will continue to impact on science and medicine for many years to come.
Some of these women will still be alive, and their memories of that time form a crucial, very important part of the historical record.
Sadly, they have not as yet been recorded for posterity and only the scientific leaders of the programme, or the two women that got babies, have spoken about their experiences.
I would like to encourage any reader who participated in the programme, or who may know of women who did, and who would like their recollections to be recorded (anonymously) for future generations, to step forward and have their memories preserved?
If you yourself, or anyone you know, participated in the Oldham work of Patrick Steptoe and Robert Edwards, please contact Simon Smedley via email on: simon@oldham-chronicle.co.uk
He can put you in touch with a historian who is interested in listening to your memories.
Name and address supplied
The views expressed are those of the author of the letter and not those of Oldham Chronicle.