Inspiring runner's fun snap
Reporter: Rosalyn Roden
Date published: 20 January 2017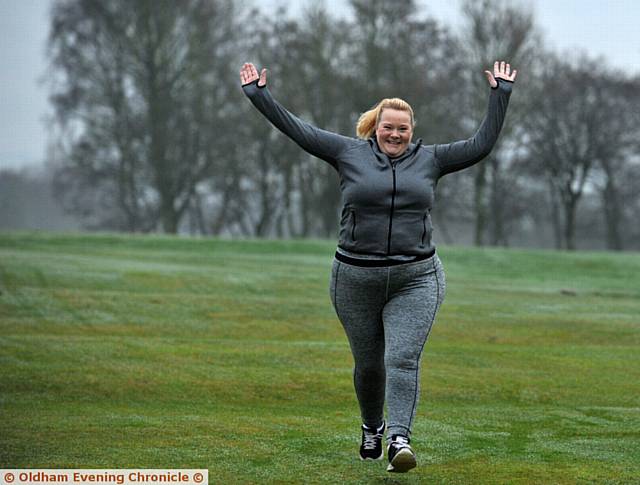 MAKING strides . . . Dawn Nisbet takes part in parkruns and has proved to be an inspiration for others
A MUM-OF-TWO is on a mission to inspire others after a photograph of her running captured the hearts of residents UK-wide.

Before last year, Dawn Nisbet's exercise regime consisted of a brief walk around Copster Hill Park with her two dogs Ted and Penny. She had never ran before because she feared being laughed at.

However, when a close family member was diagnosed with ovarian cancer in April 2016 she set about raising money through a charity run "to do her part and show her love".

Dawn (41), of Green Lane, Garden Suburb, said: "Feeling very powerless to help or do anything I decided to do the Pretty Muddy Race for Life planned for July.

"At that point I was very overweight, completely inactive. I always felt it wasn't for me and the embarrassment of people possibly laughing at me prevented me doing it."

The week after her Race for Life Dawn signed up to Oldham Parkrun, a free timed run held in Alexandra Park every Saturday.

Nerves crept in as she watched the regulars. A low opinion of herself affected Dawn's self-confidence.

But she overcame her fears about "jiggly bits, sweat and no make-up" and began to run the 5km distance against the clock.

A photo of Dawn undertaking her sixth Oldham Parkrun has been shared on Parkrun's national blog prompting residents to write to her about her story. One said it brought a tear to her eye.

The photo also captures an official Parkrun volunteer Jarrod who accompanied Dawn as "tailrunner" ­- the last runner at each event ­- to spur her on.

Parkrun commented on the photo: "Few photos in parkrun history have been shared on social media more times than this image of Dawn Nisbet at Oldham parkrun."

Dawn added: "The photo is a bit embarrassing because it's not an elite runner who is beautiful by the world's standards.

"But it's a real picture and a real person. It shows joy.

"I've had to get over the embarrassment. Other women have said it has really touched them.

"I love that as someone who couldn't get out of the armchair last year I now love running and have special florescent gear so everyone can see me.

"I hope anyone who thinks they can't run or thinks they won't be welcome at Parkrun sees my picture and thinks if she can, I can."

Inspire

The runner also hopes her efforts inspire two girls close to her heart ­- her daughters Samantha (15) and Nina (8).

Dawn, who grew up on a Cornish farm, said: "The way my daughters are growing up is very different to my childhood.

"I think the pressure and accessibility of social media and the presence and influence of reality TV have a huge impact on them as well as the unrealistic expectations in the media."

She added: "I hope they see their mum going out and achieving her goals and I hope it inspires them to be the best they can be."

Read her blog post at www.blog.parkrun.com/uk/2017/01/13/so-excited-for-my-year-ahead.