Daily snapshot keeps family's life in focus
Reporter: Rosalyn Roden
Date published: 03 April 2017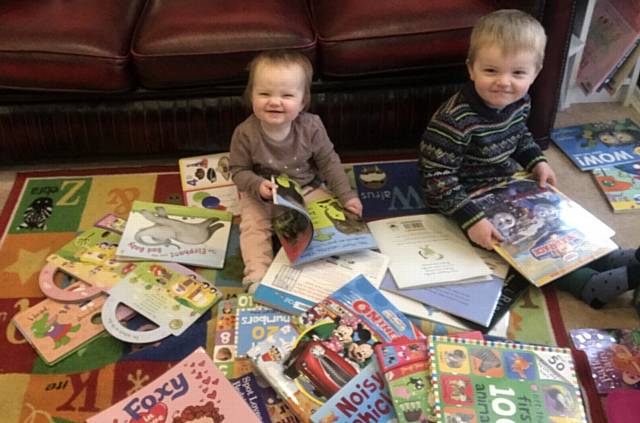 SNAPSHOT of family life . . . Bev's children Victoria and Joseph
A CREATIVE mum has recorded 1,180 ordinary and everyday photos of her first born baby.

Bev Ridyard set about the ambitious task of documenting her family's life with a photograph for every day.

She pursued the idea in response to social media's "obsession" with sharing either nightmarish or angelic baby-based posts.

The three years and two months-long project features her son Joseph from the time of his 12-week scan on Thursday, January 2, 2014.

Bev, from Saddleworth, said: "The task is thoroughly demanding and at times, in truth, I can't be bothered but I know that my future self and two children will thank me.

"I endeavour to get in as many photos as I can. Occasionally I manage to have my hair in a nice-looking up do with a 10-second application of make-up but other times my hair hasn't been washed in five days and the bags under my eyes show the sleepless nights.

"I want to empower mothers to take personal responsibility for realising the benefits of being in more photos with their children, documenting their day to day lives on a continuous basis like I do."

She added: "It saddens me that on social media, the selfie obsession is firmly rooted at both ends of the spectrum: it's either the 'being a mum is hard and look here's my evidence with my chaotic house, stained breakfast clothes plus a screaming baby' or the 'look at my baby beautifully swaddled up, lying peacefully like an angel.'

"Being a mum isn't always plain sailing but that isn't a reason not to photograph life."

Bev began asking herself why the in-between photos, which show the good, the bad and the average, were not being shared.

She wanted to record everyday moments, the regular occurrences and routine events and encouraged other mums to begins taking more photos.

Photography became important to Bev when, aged 29, she treated herself to a DSLR camera after receiving her first wage packet as head of airline marketing for Manchester Airport.

In 2010, Bev took the brave decision to set up her own business, Inspired By Joseph Photography, inspired by her son.

Ahead of Mother's Day Bev also shared ideas for mums via her Facebook page, including a calendar with reminders and photo ideas, a positive affirmation sheet, mummy milestone cards and an invitation to her 14-day My Mum Story group for mums to encourage each other.