Creating a stronger, more cohesive society
Reporter: Iram Ramzan
Date published: 11 August 2017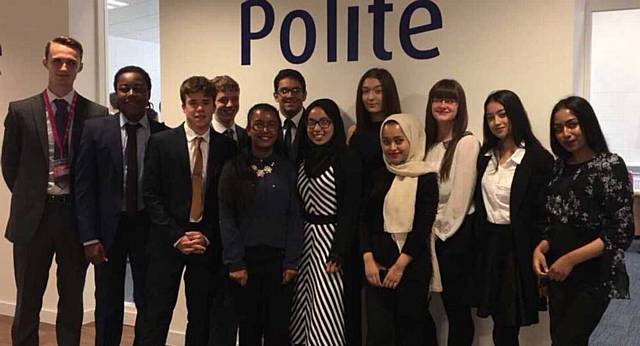 TEENAGERS from Oldham who have taken part in the National Citizen Service
YOUNG people in Oldham are leading the change in integration and breaking down barriers.

This summer over 400 teenagers aged 15-17 participated in the National Citizen Service (NCS) programme in Oldham, organised by The Challenge network. This comes just after National Friendship Day, an occasion marked on the first Sunday in August.

Often, the young people who participate are shy and lack confidence when it comes to meeting new people. One of the main aims of the NCS programme is social mixing, and so they actively recruit teenagers from all different backgrounds.

The programme is a government-funded initiative that brings together schools, community organisations, businesses and individuals to build a stronger and more cohesive society.

A recent poll from Poplus, commissioned by The Challenge, found that only one in 10 adults said their closest friend was from a different ethnic background.

As many people grow up in their own bubble of friendship groups where they don't often integrate with people from different walks of life, the National Citizen Service aims to break down barriers within society through social mixing, meeting new people and making new friends.

During phase one young people participated in team building activities in an outdoor education centre to enable them to establish relationships that cross social barriers.

During phase two young people visit charity partners in their local area, which enables them to integrate with people in their community that they wouldn't usually meet.

Students from Oldham went to Newbridge Horizons which offers a day provision for young adults between the ages of 19-25 that have learning difficulties. This was a real eye opener for some of the young people and made them understand the importance of being non-judgmental.

Risma Begum (16), from North Chadderton High School, said: " Originally I signed up with three friends. However, we were all put into separate groups which really annoyed me at first, as I didn't know anyone in my team.

"However, now when I think about it, I'm really happy as it's put me in a situation where I've made some amazing new friends. We bonded straight away on our long coach journey up to Scotland and doing the team building activities enabled me to have trust in my team.

"The people in my team are different to my friends at home, and I probably wouldn't be friends with them if it wasn't for NCS as they are very different to me. NCS has helped me to broaden my horizons. I am really glad for this experience as it's helped me prepare for college and it's made me think I can get along with a lot more people than I originally thought."