Yellow lines are rank bad say angry villagers
Date published: 24 August 2017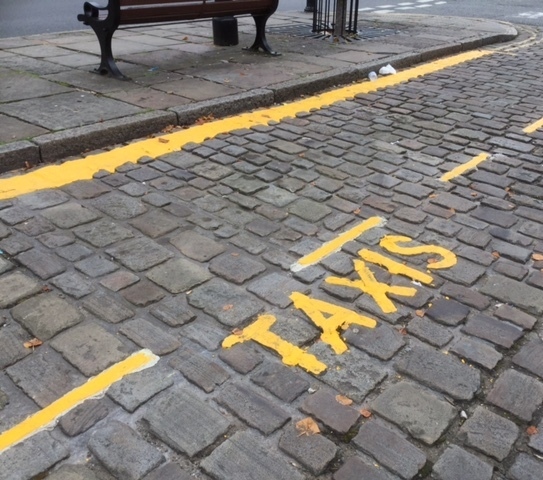 The lines, marking out the new rank
BRIGHT yellow lines in a village square are to be changed after a leading conservationist and locals went red with frustration.

The lines, marking out a new hackney carriage rank in Uppermill's cobbled square, have been criticised as "a daubing done by Banksy".

But businesses say while there are two spaces for hackney cabs, the rank should have been placed at the other end of the High Street to deal with traffic problems caused by the night time economy.

Lesley Brown, a Saddleworth parish councillor and chair of the Civic Trust, said: "I received complaints and investigated - but just couldn't believe the yellow paint.

"I thought it was a joke because it looks like something that's been scrawled on the cobbles by a child. The yellow lines are totally wrong for a conservation zone.

"They are out of place and one, running the full length of the rank, is nine inches wide."

When road markings were first installed in the square some years ago Cllr Brown said the council had created a "liquorice allsorts" effect with different thickness of lines.

"Oldham highways changed the 'no parking' lines to a different colour because of conservation implications," she said.

The new rank operates between 8pm to 1am every day but she asks: "Who will police the site to make sure only the licensed taxis use it?

"Private hire firms cannot use the rank."

A private hire driver, who did not want to be named, said: "We monitored the rank over the weekend and it was never used."

Graham Scholes, owner of JW Buckleys heritage family bakers butting onto the square, said: "The rank has caused a lot of puzzlement.

"The yellow lines look like daubs on an oil painting - something the mysterious Banksy would leave behind."

Lisa Lester-Smith, who owns Solos hair design salon in the square, said: "It would have helped if part of the rank could have been turned into a disabled parking bay too."

Royce Franklin, chair of the Saddleworth and Lees sub-committee on traffic, said proposals for the taxi rank had been under discussion for 18 months and placed on the parish council website.

The local authority set legal procedures to effect any modification to parking restrictions. These were followed and in fact at least one objection was received before implementation was approved.

He said: "It is unfortunate it is only now that further objections are being received. Surely a little more vigilance by Parish Councillors is required about the implications of the proposal would have been helpful to avoid objections before something becomes a fait accompli?

"I am assured by the local authority the broad yellow line will be re-painted in primrose during this week.

"But to comply with the regulations, the line has to be the width it is - despite being in a conservation area.

"Parking is not plentiful but two reviews for Uppermill have taken place during the last five years and spaces for disabled users were considered.

"A further increase was never considered when the taxi rank was discussed but if is felt it should be I am sure such a debate could be held."

Oldham councillor John McCann said drivers with disabled badges can park already in many places restricted for others.

Cllr Fida Hussain, Oldham Council Cabinet Member for Environment Services, said: "The hackney carriage stand is being introduced due to lack of facilities in Uppermill centre.

"Unfortunately there isn't an appropriate highway location close to the museum; the chosen location is the most-suitable in central Uppermill which does not pose a highway safety problem.

"The yellow lines should have been marked in primrose yellow, and this is being rectified this week."