Built on the rock of principles
Reporter: Karen Doherty
Date published: 30 January 2012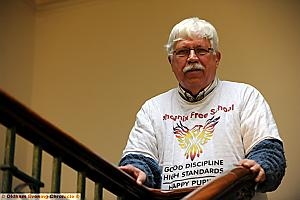 US Navy veteran Tom Burkard, confident the new school will open
ONE of the driving forces behind Oldham's proposed military-style school keeps its principles close to his heart.

US Navy veteran turned educational publisher Tom Burkard is wearing a T-shirt proclaiming "Phoenix Free School good discipline high standards happy pupils".

And he is confident that the school promising discipline — all "teachers" will be armed-forces veterans — and grammar-school standards will get the go-ahead from the Department for Education (DfE). So much so that backers are handing out leaflets at primary school gates proclaiming that it is a "new high school for all Oldham children" and will be "Opening September 2013 in the old Breeze Hill School."

This is despite Oldham Council having said that there is no need for a new school and the project not having a building yet.

Mr Burkard explained that the school had already signed up more than 70 of the 120 pupils required by the DfE and has the support of the of the office of education secretary Michael Gove.

After recent high-profile publicity on the BBC, he is confident of reaching the target within days, and that the application will be approved in the summer.

"The support from the New Schools Network and Michael Gove's office has been outstanding," he said.

"Even though ultimately this is up to the DfE, we are coming up with constructive solutions that are radically different to what is available in mainstream schools just by using the freedoms that are available to academies and free schools."

The Government's free school programme gives parents and others the chance to open their own schools. They are outside local authority control but state-funded and non-selective.

Inspired by the US Troops to Teachers programme, Phoenix and is the brainchild Mr Burkard and Oldham-educated Army captain Affan Burki.

It aims to open with 120 Year 7 pupils in 2013, eventually expanding to include a sixth form.

Breeze Hill, currently part of Waterhead Academy, is the preferred site. Other options being considered are former the South Chadderton, Kaskenmoor and St Augustine schools, with the purchase cost met by taxpayers.

There would be six "teaching" staff: three teachers with a degree in the relevant subject, but not necessarily a teaching qualification, and three instructors responsible for basic literacy skills, PE, pastoral care and the house system.

Pupils with poor literacy skills would receive intensive help to get up to scratch in a year and Mr Burkard, co-author of the Sound Foundations reading and spelling programmes: "At least 20 per cent of pupils who start school have very poor literacy skills. In areas like Oldham it is probably higher.

"Our first priority at Phoenix is that every pupil is going to get very intensive help in the basic skills: reading, writing, spelling and basic arithmetic

"We feel it is completely pointless expecting a child to study physics if they are inumerate. It's completely pointless asking them to study history if they are illiterate.

"The problem is schools have so many different requirements, so many things they have to do, they just simply can't give literacy skills the priority it needs.

"There is also the belief, and it is not entirely unreasonable, if children have not obtained adequate literacy skills in the seven years of primary school, what can possibly be done at the secondary level?

"Consequently, most SEN (specialist education needs) work in secondary schools is a matter of supporting pupils who have poor literacy skills."

Students would then follow a curriculum of maths, English, sciences, history and modern foreign languages leading to GCEs and other qualifications which have not been decided.

Geography and citizenship will form part of history, with the school refusing to teach any current geography qualifications because they are considered to be "environmental propaganda".

Pupils will be taught together according to academic achievement rather than age and there would be a comprehensive programme of adventure activities and competitive sports.

Other subjects will be taught outside the normal school day as part of an optional extended schools programme, many delivered people in the community. A key feature of the school will be a zero-tolerance approach to discipline based on swift and fair sanctions — not humiliation — which Mr Burkard believes ex-servicemen and women are best-placed to deliver.

Mr Burkard explained: "I would never expect any of our teachers or any of our staff to raise their voices, that's not the way. The only way to maintain discipline is by making pupils want to be part of what we are doing.

"When Ofsted walks in we fully expect them to be shocked at how our teachers do things but I also expect them to be impressed by how our pupils are engaged in learning."

He said the approach had support, particularly from the Pakistani community in Oldham, added: "They see the military as upholding standards of behaviour that are certainly lacking in state schools."

Oldham Council did not respond to a request by the Chronicle to comment.